Hi Everyone! I am home from Miami. What an exciting time that I had. Many of you have read my writings in the past. Today again I shall shed my soul to help others to understand. Diabetes…we have heard of it, some of us live with it. I have been "cured" from it! "We need a cure now, Insulin is not a cure!
As I walked through those doors at The Diabetes Research Institute at The University of Miami it was like going home! The DRI is truly family! Work is being done there around the clock to find a cure. I was so excited to see everyone! However inside my heart shed a tear. Again I was walking through those doors for all of you, to be your voice! I wanted to scream out loud that I want all diabetics to be able to experience what I am…. CURED! It is coming, it will come from the DRI. Someday I hope for Dr. Fallon to walk through those doors at the DRI. I know he will someday!
I was greeted by Gary Kleiman, the executive director. I have to tell you the first time we met was like seeing an old friend. Our day was delayed due to a major power outage that put most of Florida out. We went out to grab a bite to eat and catch up on the past year! Gary is also a type one diabetic, he has had two kidney transplants, one of the first at the DRI to receive islet cells. Like myself Gary suffers from diabetic eye disease. I fell in love with his computer monitor. That is just what I myself need. I am sure it will make a big difference. I truly admire Gary's determination and wonderful spirit. We share a bond of diabetes and it's complications, both of us are immounosuppressed. Our main bond is the fact that we both engage the fight for life, determined to outlive our destiny … now to help others to understand. Gary is also the author of; "No Time To Lose."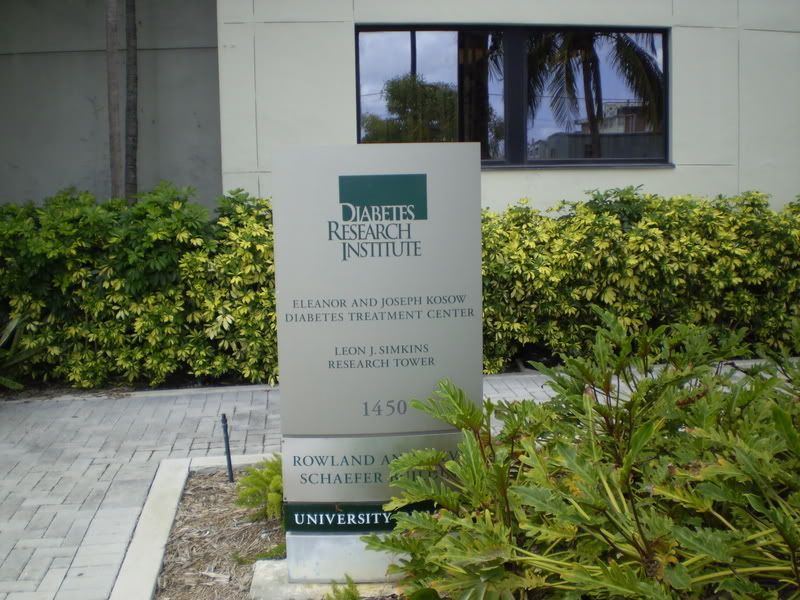 Photo Above: Research Scientist Dr. Cherie Stabler, DRI Executive Director Gary Kleiman & Kitty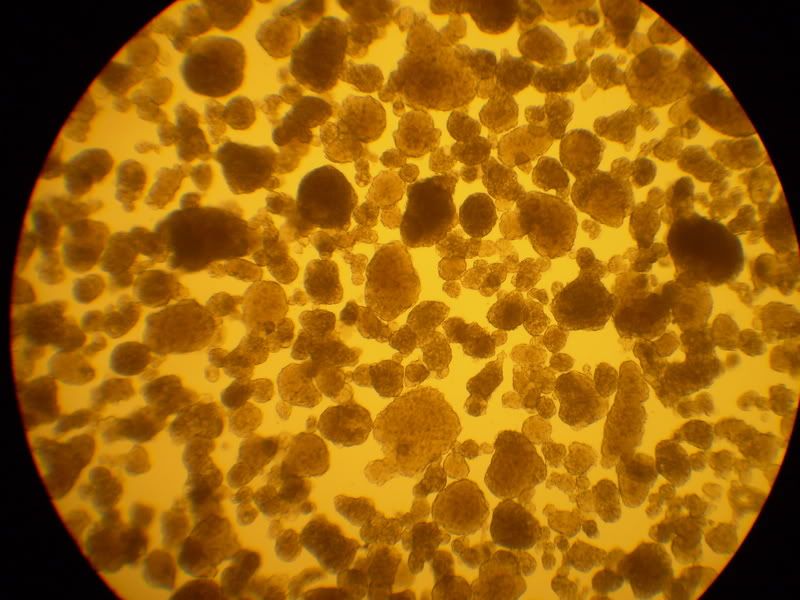 Photo Above:  Islet Cells, yes taken with my own camera!
Photo Above:  The Ricordi Chamber
Photo Above:  Mouse Model (no harm is done to testing models)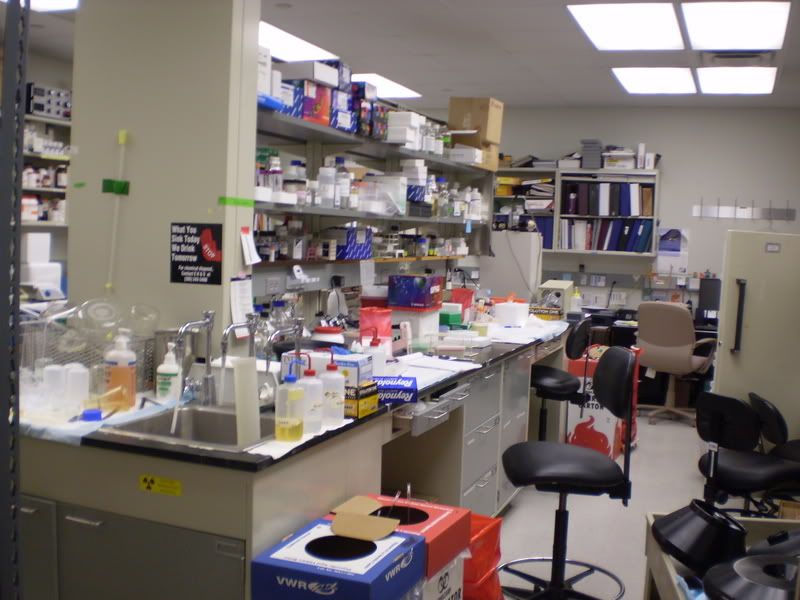 Photo Above:  Stem Cells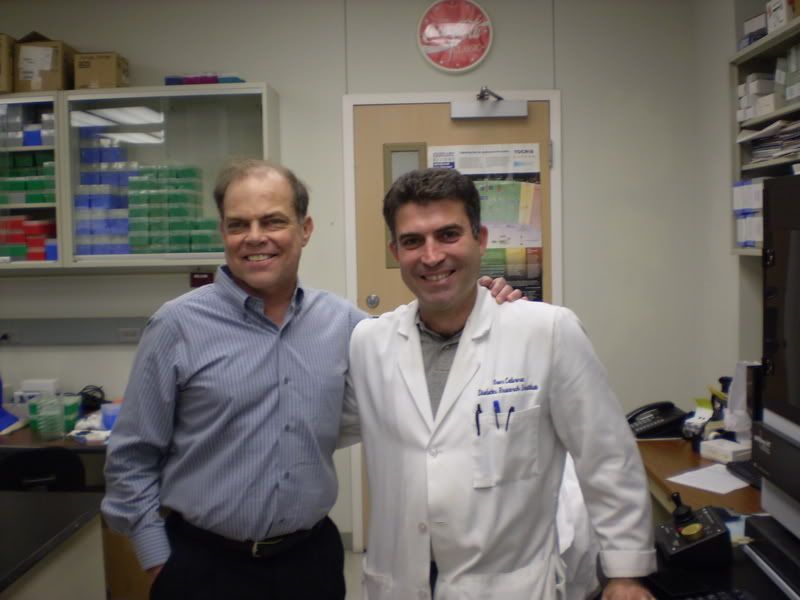 We had a wonderful broadcast live from Miami that evening with Dr. Fallon in the Vineland Studio. Joining him was Dr. Nasser I. Youssef, Transplant Surgeon from Our Lady of Lourdes Health System in Camden, NJ. Joining us in Miami live from the DRI, Dr. Cherie Stabler, Dr. Tatiana Froud and "World Class" Research Scientist Dr. Camillo Ricordi.
Photo Above: Dr. Camillo Ricordi, Kitty, Dr. Cherie Stabler and Dr. Tatiana Froud
After the broadcast Dr. Ricordi and I shared a Reese's! It was such a pleasure to have all of them as guest on Diabetes Living Today and to spend time with Dr. Ricordi again. I look forward to going back home!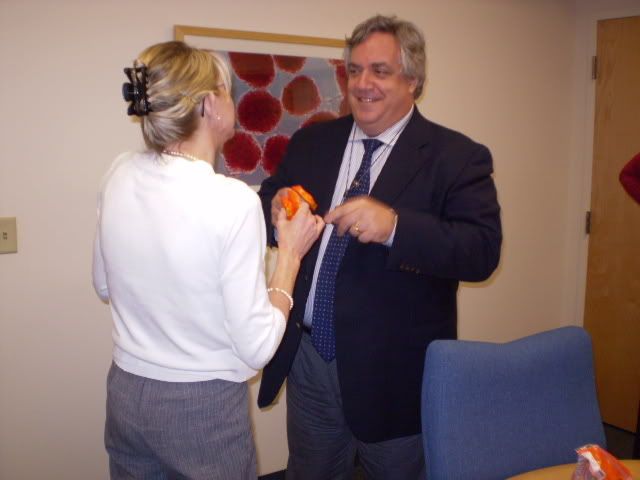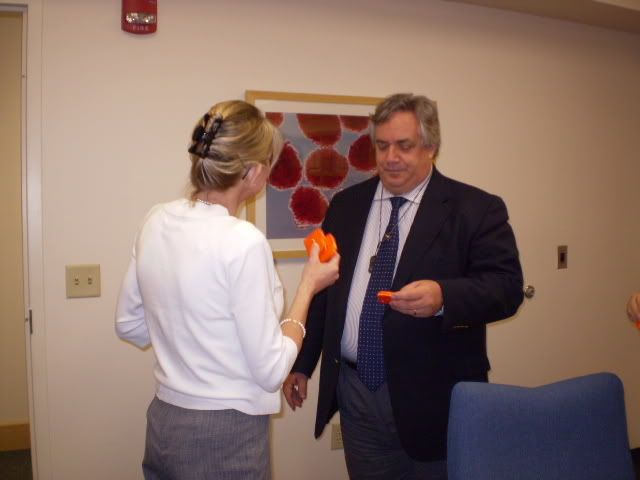 Photo Above: Kitty, the "Cured" type 1 diabetic with "World Class" Research Scientist & "Friend" Dr. Ricordi
A big Thank You to my family at the DRI. Keep working towards the Cure.
Insulin Is Not a Cure! Luv, kitty