Hi Everyone!  Sorry it has been a while since I've wrote to all of you, I've been very busy and hey if you guys think it's easy to keep with up the Rockin' Doc'  (Dr. Fallon) I can tell you it's NOT!  At least not in New York City, we recently went to NY City to attend the DREAMS IN THE CITY for the Diabetes Research Institute.  It was a wonderful evening for all who attended.  Oh and it was my very time ever going to NY City, so I am sure you could only imagine my excitement!
What I learned on my very first trip:  Never wear "High Heels" to NY City, and I mean never!  The train ride to NY was very exciting as I was wondering if it would be like what I had seen on TV?  It was, as we arrived at Penn Station and exited the train there were people everywhere, this is where the fun begins.  As we approached the street level is when the heal on my right shoe decided to break, it was loose.  As my mind started to race around…I thought oh no, this did not just happen!  I thought well Kitty your going to get through this night just fine.
The evening was spectacular as I was so excited for Dr. Fallon to finally get to meet so many wonderful people who flew up from The Diabetes Research Institute in Miami to attend the event.   The event brought in One Million dollars to fund a cure!  For more information on this event and to view photos click here !
I would like to know why is it that a man will not stop and ask for directions???  Women we have all been there!  Yes, as we left the event.  I had no choice except to take off my high heels to keep from breaking my ankle,  there we were me and the Rockin' Doc' leaving NY City with me walking bare stocking feet!  As we approached the train station to head back home, it dawned on me that Dr. Fallon was heading towards the wrong train…as I gently asked him if this was right he kept going, so I followed.  Oh this is the wonderful part.  We board the train, I closely watch Dr. Fallon's expression as he was not saying a word.  We take our seat and as the train starts to pull away….I leaned over and asked…Dr., are we on the right train?  He responded with a look of wonder, as he replied,  Kitty I'm not sure, but I don't think so!  Yes, we were on the wrong train heading the wrong way!!!!  We had to loop back to Penn Station to get the right train home!
I had such a wonderful time in NY City and am looking forward to going back.  Yes, I  already have one of many trips planned.  I am already making plans with Robert A. Pearlman, to meet in NY City.   Robert A. Pearlman is the President and Chief Executive Officer of the Diabetes Research Institute Foundation (DRIF).  Click here to read more about Robert A. Pearlman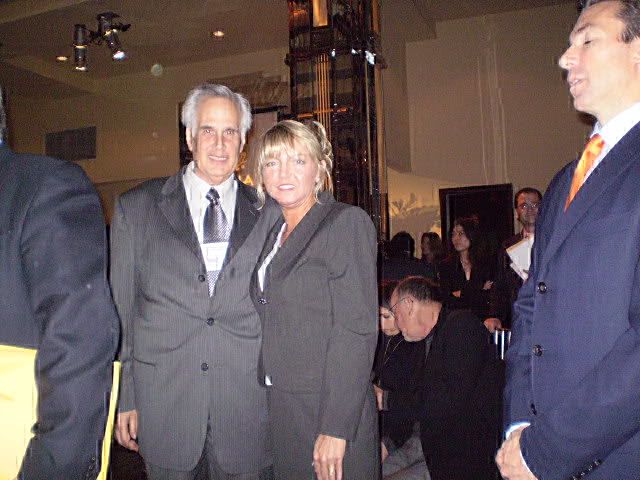 Photo Above:  Mr. Robert A. Pearlman & Kitty Castellini