This week Kitty and Dr. Fallon will interview
Kerri Morrone Sparling
,
Columnist and Diabetes Blogger.
Kerri Morrone Sparling
Diagnosed in 1986, Kerri Morrone Sparling has been living with type 1 diabetes for over 22 years.  After searching online for other people who were living with diabetes and finding very few kindred spirits, she decided to start her own diabetes website and was one of the first few diabetes bloggers in the country.  Now Kerri is one of the top bloggers in the diabetes space, writing daily at Six Until Me.  In addition to her diabetes blog, Kerri is also a columnist at several diabetes websites, including dLife, diaTribe, and contributes to other leading diabetes publications.
In addition to her passion for diabetes advocacy, Kerri is also a full-time editor and community leader at a diabetes media company located in Westport, CT.  She is actively involved with several advocacy organizations and works tirelessly to raise awareness for type 1 diabetes.  "Diabetes doesn't define me, but it helps explain me," she says, "and I want to help other feel less alone with this disease."
Outside of the diabetes realm, Kerri is a die-hard Red Sox fan, budding photographer, and a fitness enthusiast.  Recently married and looking forward to starting a family, Kerri lives with her husband Chris in western Connecticut.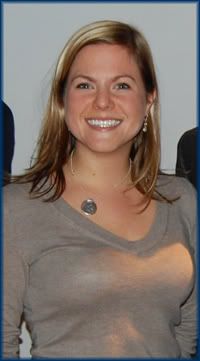 Photo Above:  Kerri Morrone Sparling
Listen to Diabetes Living Today® interview:
12/30/08 ~ Kerri Morrone Sparling, Columnist~Diabetes Blogger
12/30/08 ~ Kerri Morrone Sparling, Columnist~Diabetes Blogger
[ 54:28 ]
Play Now
|
Play in Popup