Diabetes Living Today is happy to have our friend
Kerri Morrone Sparling
as our guest tonight, Tuesday December 30, 2008.  She has written an "
exclusive guest post
", Why I Blog for our reader's.
Why I Blog
Kerri Morrone Sparling
The human body is absolutely amazing in the way each organ works together with such precision, maintaining our homeostasis and keeping us kicking.
But the mind of a diabetic is pretty amazing, too. We have trained our minds to think like a pancreas. We are the people who know how many carbs are floating around in a bowl of cereal. We are the ones who can take a blood sugar number and fold it into any situation – 140 mg/dl on the soccer field means more orange slices while 140 mg/dl at the dinner table means correcting the high and navigating the meal. We are the ones who are trying to compensate for some cells that simply gave out on us. Crawling inside the thoughts of a working pancreas and trying to mimic its performance is not an easy task.
When I was diagnosed with type 1 diabetes in 1986, my parents and I were instructed how to inject insulin into oranges, handed a generic meal plan, and given a "Bill Nye the Science Guy" test tube set to check my urine glucose. Over the course of the last two decades, I have seen remarkable advancements in diabetes technology, from fast-acting insulins like Humalog and 5 second glucose meters to insulin pump therapy and continuous glucose monitoring systems.
But despite this influx of information and technology, I was still one of the only diabetics I knew, completely loved but not completely understood by my friends and family. I didn't feel sick. I felt frustrated. And alone. I have had diabetes for most of my life, so by necessity I knew the technical essentials. But where were all the people who were living with this disease, like I have been since I was small?
When I first researched diabetes on Google, the page filled with a litany of links and lists of ways I could become "complicated," urging me to take fastidious care of my feet, to schedule annual eye exams, and discussing the benefits of testing my blood sugar at least four times per day. It wasn't that this information was useless to me, but it was mostly clinical statistics and besides, who were these people writing this stuff?
At the recommendation of my now-husband, I started a blog called Six Until Me, referring to my age when the first signs of diabetes presented themselves. Six years until diabetes – six until me. How it touches every day life, from the spotty scars on my fingertips to the dots of past infusion sets on my thighs that tell a silent story.
Blogging has changed my perception of diabetes from one of loneliness to being embraced by a network of support. It's about sharing these feelings and forcing me to deal with these emotions, keeping diabetes from being an isolating force in my life. In addition, what started as a means of connecting with other diabetics ultimately grew into a terrific career as an editor and columnist at dLife, where I see daily the profound and empowering effects of a strong and empowered community.
Every day we, as people with diabetes or their caregivers, face this disease. And every day is easier knowing there are people out there who understand completely.
This is why I blog.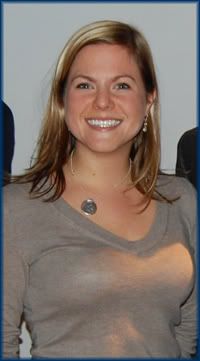 Photo Above:  Kerri Morrone Sparling
Kerri Sparling writes the widely-read and award-winning diabetes blog Six Until Me, about her life as a twenty something with type 1 diabetes. In addition to her blog, she is also an Editor and columnist for dLife, and a columnist for several diabetes publications. Recently married, Kerri currently lives in Connecticut with her husband and their army of cats.