Diabetes Living Today®
radio program, provides listeners with education, inspiration and motivation to live healthy and well with diabetes. Whether you have diabetes or know someone who does
Diabetes Living Today®
radio program offers experience, insight, education and tips to manage life with diabetes. Through interviews, including "World Class" Research Scientist, physicians and people living with diabetes, living well tips and questions from the listening audience, host Kitty Castellini and Endocrinologist Dr. Joseph J. Fallon, Jr. are there every step of the way to offer guidance, advice, and most of all, support.
This week Kitty and Dr. Fallon welcome back Dr. Thomas I. Margolis, Retinal and Ophthalmic Consultant.  Joining them for the first time is colleague Dr. Brett T. Foxman, from Foxman, Foxman & Margolis Associates Retinal and Ophthalmic Consultants, P.C.
Dr. Thomas I. Margolis
Dr. Thomas I. Margolis received his medical degree in 1989 from Harvard Medical School, Boston, MA. He received honors on his thesis: "New Mid-Infrared Lasers for Vitreous Membrane Cutting and Sclerostomy." Dr. Margolis is in a Private Group Practice located in Southern New Jersey. Foxman, Foxman & Margolis Associates, is limited to vitreoretinal diseases and surgery. He currently is the Principle Investigator in several clinical trials. To learn more about Dr. Margolis and to contact him please visit www.retina.com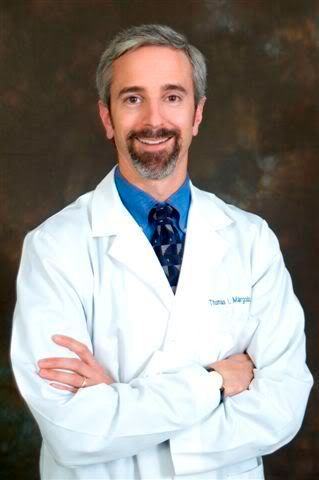 Photo Above:  Dr. Thomas I. Margolis
Dr. Brett T. Foxman
Dr. Brett Foxman is a specialist in diseases of the retina.  His background includes college and medical school at Boston University with residency and retina fellowship training at the Jules Stein Eye Institute / UCLA Medical Center.  He is currently the Chief of the Division of Ophthalmology at Shore Memorial Hospital.  He is on the Board of Directors of the American Retina Foundation and a past board member of the American Society of Retina Specialists (ASRS).  He is also the current chairman of the annual ASRS Film Festival in which retina specialists from around the world present surgical and educational films related to retinal care.  He is a co-author on numerous publications, a member of numerous professional societies and recipient of the ASRS Honor Award, Vitreous Society Honor Award and the Rhett Buckler Award.
Dr. Foxman has practiced in southern New Jersey since 1992.  He and his associates have state-of-the-art facilities in Vineland, Northfield and Cape May Court House, New Jersey, which are devoted to care of retinal conditions including diabetic eye disease.  This involves examinations, laser procedures, surgery and research of retinal problems.  Currently, they are evaluating new medications and treatments to control diabetic retinopathy and macular degeneration.  More information about his practice can be found at www.retina.com.
Photo Above:  Dr. Brett T. Foxman
Listen to Diabetes Living Today® interview:
3/24/09 ~ Dr. Thomas I. Margolis and Dr. Brett T. Foxman, Retinal and Ophthalmic Specialist
3/24/09 ~ Dr. Thomas I. Margolis and Dr. Brett T. Foxman, Retinal and Ophthalmic Specialist
[ 56:11 ]
Play Now
|
Play in Popup