"Roche host Diabetes Care Social Media Summit ~ A Meeting of The Minds"
Exciting and curious don't begin to describe how I felt when I recently traveled to the Roche Diabetes Care Social Media Summit. On July 22nd and 23rd. I was selected by Roche as one of 29 of what they considered to be the most influential "diabetic patient advocates" or Internet "bloggers" to come together for a "meeting of the minds" at their  North American headquarters in Indianapolis, IN.
My invitation had arrived in early Spring and within five weeks all travel plans were finalized by Roche for all 29 advocates.  The concept behind the "Social Media Summit" we were told, was to assemble a group Roche considered as the top social media "influencers." The group would consist of writers, journalist, authors, broadcasters, bloggers and most importantly, compassionate, dedicated  people currently living with diabetes. Each participant had to have demonstrated a commitment to making a "positive change" in the diabetic world. Each would have to play an active role in discussing how the Internet, and specifically social media and networking, could educate and help pave the road for a better way of life for diabetics.
So, with that as a backdrop, we all flew in from various parts of the country filled with excitement, different expectations and wonder.  As the summit approached, and as we arrived at our destination, our high tech group was burning up "Blackberrys" with greetings to old friends and welcomes to those meeting for the first time. We all arrived with our separate agendas. I came with an open mind and heart. I came to listen and learn. I wanted to hear first-hand what Roche, the world's largest manufacturer of glucose meters and test strips, had to say and what they wanted to do in the social media world. As so many diabetics already know, Roche Diagnostics makes ACCU-CHEK® Aviva and  Compact Plus meter systems among many other products for diabetics and is considered a world leader in the field.
Our meetings began with Roche Diabetes Care Executive Leadership at Roche's North American headquarters. That evening we were greeted by the Roche team at Maggiano's Little Italy Restaurant and were hosted by Luc Vierstarete, Senior Vice President and General Manager Roche Care North America. I had a wonderful conversation with Mr. Vierstarete talking about diabetes and the importance of education and how best to reach those living with diabetes.  I immediately learned that we were both on the same page believing that "Diabetes Education is the key" to living healthier and that one essential way to spread the knowledge was via the Internet and social media. We agreed that education is a critical component in helping people with diabetes live better and longer lives and that we must work together to figure out how to use social media to reach as many people as possible to educate them about the disease.
I've been living with Juvenile Diabetes for over 40 years, having been diagnosed at the tender age of three.  I've suffered greatly as a result of this disease and truly understand its complications. I know that had there been better "diabetes education" available to me, readily available on the Internet or through social "chats" with other diabetics and influencers, I might not have temporarily lost my eye site back in 2001. Perhaps I could have avoided the surgeries and eye diseases I endured on a daily basis. I might not have suffered so dearly from diabetic gastropersis, unable to digest food and making it difficult to match insulin to food needs. My life probably would not have been the daily roller coaster it was. From my hypoglycemia to my being confused because I was unaware my blood/glucose reading was 23, education about my condition would have changed my life drastically.
Our group consisted of 26 people with type 1 diabetes, 2 type 2's and one former type 1 diabetic, me. I was cured with a successful long-term Pancreas Transplant Alone (PTA) on August 13, 2004 at the University of Maryland Medical Center in Baltimore, MD.  There were plenty of insulin pumps and CGM's going off throughout the two day event with highs and lows everywhere.  I had never been in one room with so many influential diabetics in my life.  It was an honor and privilege to be among this distinguished group.
From the start, it was clear to me that the Roche people were on the right path. Dan Kane, Vice President of marketing said that we were not invited to hear about their products or talk about the company and he was true to his words. At no point in our meetings did we hear about Roche.  Not one word! This was no sales job but instead a true "meeting of the minds." Roche was big on the word "education" throughout the entire event without question. Our goal was to grasp the problem, the lack of education or the inability to reach enough people affectively, and to figure out how to use emerging technologies and social connections to help overcome the education divide.
Dan shared an appropriate analogy with us. He described the evening as being similar to your first 7th grade dance, with the boys on one side of the room and the girls on the other.  I suddenly realized he was right as we all had our interests and agendas but at no other time had we come together in such a formidable way. Roche had brought us together to share our points of view, our thoughts and to observe and learn. And, in their effort, each of us was going to learn as well, straight from the minds and mouths of other influencers.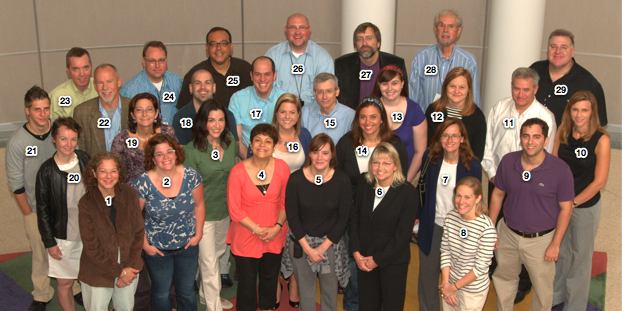 Photo Above:  Social Media Summit Thought Leaders
In the photo above:
1) Riva Greenberg
2) Ginger Vieira
3) Kelly Kunik
4) Fran Carpentier
5) Crystal Lane (a.k.a. Calpumper)
6) Kitty Castellini
7) Sandra Miller
8) Christel Marchand
9) David Edelman
10) Brandy Barnes
11) Bennet Dunlap
12) Lee Ann Thill
13) Allison Blass
14) Gina Capone
15) Jeff Hitchcock
16) Kerri Morrone
17) Manny Hernandez
18) Chris Bishop
19) Amy Tenderich
20) Kelly Close
21) Christopher Thomas
22) Scott King
23) Bernard Farrell
24) Scott Strumello
25) George Simmons
26) Scott Johnson
27) William Lee Dubois
28) David Mendosa
29) Charlie Cherry
I was honored to be seated at dinner with Randall Cole, National Director, Channel, Clinical, Sales Administration for ACCU-CHEK® Insulin Pump, Nathalie Chiasson, Vice President Gloabal Market Intelligence and IM/E – marketing, Lisa Huse, Director of Professional Marketing, and Kim Gutzwiller, Marketing Communications Consultant.  We shared a wonderful evening of tears and laughs, discussing the challenges diabetics face and how together, we can make a difference through social media.
Day 2 was an early morning start as we headed to Roche Diagnostics Corp. U.S. Headquarters.  We worked through breakfast with additional introductions taking place. We brainstormed for hours, both on an individual basis and in groups. We responded to questions about how many diabetics were currently being reached with information? How could we reach more? How could we have an impact on those living in the "diabetic closet?" With our thoughts always positive we talked about the best ways to reach patients, doctors, educators, family and friends and how we could keep these groups engaged.
We shared out thoughts about diabetes as a global problem in dire need of attention.  We reiterated the fact that studies show 4 out of 10 diabetics are not currently testing their blood sugar levels and some don't even know how or the importance of doing so. We discussed how you deal with the fact that over two-thirds of those affected with diabetes do not have the basic math skills and basic levels of literacy to properly deal with their diabetes and how to overcome this. We shared our opinions on the critical need to improve diabetes education and self-management skills.
Of course, we also discussed the high cost of treating diabetes today, estimated at over $132 billion dollars this year alone.  We debated the issues surrounding our current medical system, a hot topic on the front pages of the nation's newspapers and web sites, and the challenges to those with insurance and for those without. Throughout it all, we listened and learned from one another and so too did Roche.
As the day moved on, there was an optional Roche Diabetes Care Manufacturing Facilities Tour.   The tour took about 40 minutes and I can tell you I have never seen so many test strips at one time in my entire life!  Here take a look:
 Photo Above: Roche Diabetes Care Manufacturing Facilities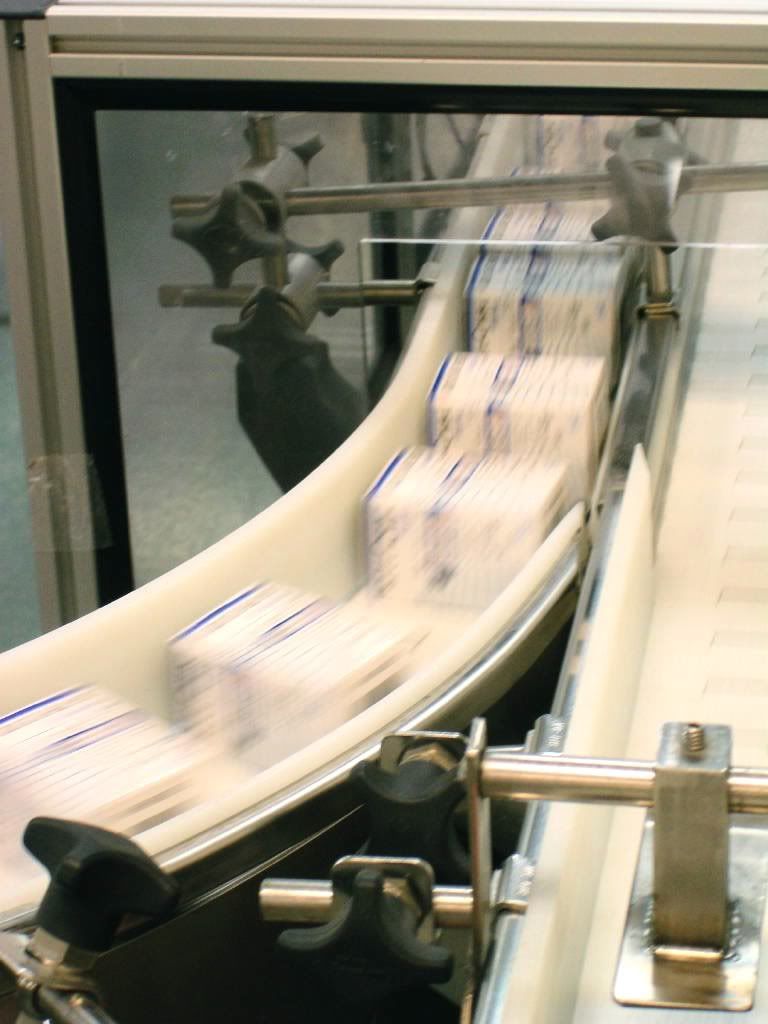 Photo Above: Roche Diabetes Care Manufacturing Facilities
As you can see we accomplished a lot, Roche not only heard from us, they learned from us as well…Or perhaps I should say they learned from you because each of us tries to be a voice for those living with diabetes
Roche supplied each of us with a flash drive to take home that had our group picture on it. It also contained information regarding some of tools that are vital to diabetes management, and that truly impressed me.  However, what impressed me most were the three media releases on the flash drive that recently went out to media and for the world to see.  I have to share them with you:
Roche announces long-term commitment
 to tackle growing epidemic of diabetes
Roche announces wide array of ACCU-CHEK programs centered around Behavior Change through Patient Engagement (SM), including tools for better self-care.
Roche, the maker of ACCU-CHEK blood glucose monitoring systems and insulin pumps, announced today its long-term commitment to tackle the growing epidemic of diabetes by its Behavior Change through Patient Engagement (SM) program – a wide array of educational programs and tools that promote more effective self-care.
"As the world leader in diabetes diagnostics, we have a responsibility to provide solutions that overcome a critical gap in diabetes management," said Head of Roche Diabetes Care North America Luc Vierstraete.  "Traditional diabetes management tends to focus on telling people with diabetes what to do but that, by itself, doesn't necessarily fully engage patients. Our initiative, Behavior Change through Patient Engagement, is all about helping patients take an active role in their diabetes self-care. We know that keeping patients engaged and focused on self-care is critical to long-term success and better outcomes. We are so committed to this effort, we have already invested more than $14 million toward this initiative and will continue to do so."
Roche's Behavior Change through Patient Engagement program offers:
·         Coaching skills for healthcare professionals to help achieve breakthroughs in engagement of patients;
·         Free patient education programs to help adults, children and teens make self-management easier; and
·         Easy tools that help patients discover that the actions they take every day matters – understanding how things like changes in therapy, foods or activities affect their blood glucose.
"Diabetes is a difficult, frustrating disease," said Roche Diabetes Care Medical Director Dr. Andreas Stuhr. "Our Behavior Change program helps healthcare professionals address things like diabetes burnout and other psychological barriers to effective self-care. In addition, we have devised unique and powerful tools to help patients discover that change is worthwhile and achievable."
New educational programs and tools within the Behavior Change through Patient Engagement will continue to be rolled out throughout the year. Meanwhile, existing programs have been further enhanced to fully complement the Behavior Change program.
"We are confident that, together, we can change the future of people who have diabetes,' Vierstraete added. "That core belief – that behavior change is worthwhile and achievable – is essential and Roche is committed to helping provide the foundation needed for lasting change."
Roche Diabetes Care announces unique coaching program for diabetes educators as part of long-term commitment to fight the disease
Program helps diabetes educators better engage and motivate their patients with the goal of  more positive outcomes.
Roche, the maker of ACCU-CHEK blood glucose monitoring systems and insulin pumps, announced today the latest component of its Behavior Change through Patient Engagement (sm) program.  Creative Coaching is an advanced educational program that fights the growing epidemic of diabetes by improving dialogue between diabetes educators and their patients.
"As the world leader in diabetes diagnostics, we truly appreciate the efforts of educators, and other healthcare professionals, who help their patients lead healthier lifestyles," said Sr. Vice President & General Manager of Roche Diabetes Care North America Luc Vierstraete.  "They represent the front lines in the fight against poorly managed diabetes and its devastating effects.  These professionals are already so adept at the science of diabetes –  this program helps them with the art of patient engagement."
Recent participants in the program say they value not only the foundation of adult learning styles and coaching skills, but also the ability to interact with one another while learning how to effectively integrate ACCU-CHEK products and tools.  When educators return to their practices they are better prepared to apply best practices and achieve breakthroughs with their patients.
"What I appreciated most was the purpose of the weekend, which was to increase the quality of our healthcare,"  said Diabetes Educator Linda Filipi, BSN, RN of Laguna Hills, California.  "For us that means how to become better educators – for (Roche) it is how to offer quality products.  The end result is the same: it means that patients live longer, healthier and happier lives."
Creative Coaching is just one part of the Behavior Change through Patient Engagement program.  Other elements include education to healthcare professionals on psychological barriers to self-care, direct-to-patient education that helps adults, children and teens make self-management easier; and simple, paper-based tools that help patients discover how the actions they take every day matter.
"A worldwide strategic objective for Roche is to 'Enable Diabetes Management,'" Vierstraete said.  "We take this very seriously – in the U.S. alone we have invested more than $14 million in the overall campaign. By locking arms with these dedicated healthcare professionals and providing them with a forum to improve patient self-care, we feel certain this can be achieved."
About Roche Diabetes Care
Roche Diabetes Care is a pioneer in the development of blood glucose monitoring systems and a global leader for diabetes management systems and services. For more than 30 years, Roche has been committed to helping people with diabetes live lives that are as normal and active as possible and has been helping healthcare professionals manage their patients' condition in an optimal way. Today, the ACCU-CHEK portfolio offers people with diabetes and healthcare professionals innovative products, services and comprehensive solutions for convenient, efficient and effective diabetes management-from blood glucose monitoring through information management to insulin delivery. The ACCU-CHEK brand encompasses blood glucose meters, infusion pumps, lancing and data management systems.
For more information, please visit accu-chek.com.
About Roche
Headquartered in Basel, Switzerland, Roche is a leader in research-focused healthcare with combined strengths in pharmaceuticals and diagnostics. Roche is the world's largest biotech company with truly differentiated medicines in oncology, virology, inflammation, metabolism and CNS. Roche is also the world leader in in-vitro diagnostics, tissue-based cancer diagnostics and a pioneer in diabetes management. Roche's personalized healthcare strategy aims at providing medicines and diagnostic tools that enable tangible improvements in the health, quality of life and survival of patients.
In 2008, Roche had over 80,000 employees worldwide and invested almost 9 billion Swiss francs in R & D. The Group posted sales of 45.6 billion Swiss francs. Genentech (United States) is a wholly owned member of the Roche Group. Roche has a majority stake in Chugai Pharmaceutical (Japan). For more information, visit www.roche-diagnostics.us.
All trademarks used or mentioned in this release are protected by law.
After my visit with Roche, I came home in deep thought. I totally got the summit and what Roche wants to do.  We should all welcome Roche to the world of "Social Media" and I must say kudos to you for what you've done, and what I know you are going to be doing, to advance diabetes education:
"We are so committed to this effort, we have already invested more than $14 million toward this initiative and will continue to do so." That's just one of the many messages I left the summit reciting over and over.
For everything they've done, for me and for the millions living with diabetes, I say thank you to Roche from the bottom of my heart, I know, now I know they know, that education is the answer. I urge you and anyone you know who is or is living with a diabetic, to seek the most important tool we have in our arsenal to fight and live better with this disease… "Diabetes Education"
I leave you with my final thoughts and a quote from Roche's Dan Kane, Vice President of Marketing in the U.S. for Diabetes Care:
"The main purpose Roche had in organizing this summit was to actively listen, and try to determine how social media could be used to help in the fight against diabetes," said Vice President of Marketing, Diabetes Care, U.S., Dan Kane.  "As the worldwide leader in diabetes care, we should also lead the way in new technologies that help people lead healthier lives.  Social media is incredibly powerful, and much of it is still uncharted territory.  Together with the bloggers, I think we have taken a very positive first step in discovering how Roche can join the conversation online, and do so in a way that is appropriate, helpful and educational."
My final thought:
"Roche equals diabetes education for the world!"
Your friend,
Luv, Kitty
Listen to The Latest Broadcast of Diabetes Living Today®
Kitty Broadcast on Roche Diabetes Social Media Summit