Diabetes Living Today®
radio program, provides listeners with education, inspiration and motivation to live healthy and well with diabetes. Whether you have diabetes or know someone who does
Diabetes Living Today®
radio program offers experience, insight, education and tips to manage life with diabetes. Through interviews, including "World Class" Research Scientist, physicians and people living with diabetes, living well tips and questions from the listening audience, host Kitty Castellini and Endocrinologist Dr. Joseph J. Fallon, Jr. are there every step of the way to offer guidance, advice, and most of all, support.
This week Kitty and Dr. Fallon will host their No Sugar Added™ "open forum," with special guest Gina Capone.  Gina just returned from The Diabetes Research Institute in Miami, FL., where she attended the "Mastering Your Diabetes" class.  
Gina Capone is a long-time diabetes advocate and social media entrepreneur, having created and contributed to numerous diabetes websites, blogs and other social community forums over the last decade. In 2000 she co-founded Diabetes Talkfesthttp://Diabetestalkfest.com, a site dedicated to hosting live chats with clinical and research professionals in the field of diabetes, where she moderates the weekly discussions and authors the Diabetes Talkfest Bloghttp://DiabetesTalkFest.com/blog. She also serves as the community manager of Juvenation.org, the JDRF type 1 social website for people with diabetes and their families, and is an expert patient blogger on Health Central. healthcentral.  Among her ongoing efforts as an advocate for all diabetes patients, Gina has created and currently manages the CGM (Continuous Glucose Monitor) Anti-Denial Campaign website cgm-antidenial.ning.com, providing members with crucial information for helping those with diabetes obtain coverage for continuous glucose monitors and also The Diabetes OC (Online Community) the diabetesoc.com showcasing diabetes bloggers weekly.
Gina's newest venture is the creation of a comprehensive online diabetes directory which will be coming soon.
In addition to her extensive internet and social media background, she is also a graphic designer with over 10 years experience in the field and she is always looking for more opportunities!
Gina and her husband live in New York, with their son CoCo, a Yorkshire terrier. They are looking forward to expanding their family outside of the canine category as soon as her A1c goes down into baby range.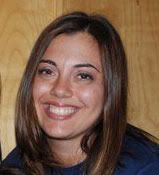 Photo Above:  Gina Capone
Listen to Diabetes Living Today® interview with Gina Capone
September 1, 2009 ~ Diabetes Living Today® ~ No Sugar Added® Open Forum with Special Guest Gina Capone
September 1, 2009 ~ Diabetes Living Today® ~ No Sugar Added® Open Forum with Special Guest Gina Capone
[ 55:02 ]
Play Now
|
Play in Popup