Diabetes Living Today®
radio program, provides listeners with education, inspiration and motivation to live healthy and well with diabetes. Whether you have diabetes or know someone who does
Diabetes Living Today®
radio program offers experience, insight, education and tips to manage life with diabetes. Through interviews, including "World Class" Research Scientist, physicians and people living with diabetes, living well tips and questions from the listening audience, host Kitty Castellini and Endocrinologist Dr. Joseph J. Fallon, Jr. are there every step of the way to offer guidance, advice, and most of all, support.
This week Kitty and Dr. Fallon will interview Dr. Joseph P. Costabile, Vascular Surgeon from Virtua Surgical Group.  
Dr. Joseph P. Costabile
Dr. Joseph P. Costabile grew up in North Jersey and graduated from The Pingry School in 1972. He attended college at Ohio Wesleyan University and graduated with a B.A. in 1976 with majors in both Chemistry and Bacteriology. Dr. Costabile subsequently graduated from UMDNJ, RutgersMedical School, Camden in 1986. Dr. Costabile stayed on at Cooper Hospital for his General Surgery Internship and residency.  Upon completing his General surgery training, Dr. Costabile then did a trauma fellowship at Cooper hospital's trauma center until 1992.  Dr. Costabile completed a Vascular surgery fellowship at Robert  Wood Johnson University Hospital, New Brunswick, N.J. in 1995 and then rejoined the faculty at Cooper hospital from 1995 until 1998.  Dr. Costabile joined Surgical Group of South Jersey in 1998 until the present.  Dr. Costabile is involved with the United States Navy Reserves and has a commission as an officer and general/trauma and vascular surgeon.  Dr. Costabile has also completed two tours of duty in Kuwait and Iraq in 2005 and 2008 respectively. Dr. Costabile is very proud to serve our nation and our men and women in uniform. His areas of interest in vascular surgery are venous disease, endovascular surgery and wound care.  His hobbies are fishing, skiing and fitness training. Dr. Costabile is married to Yolanda for the past eleven years, but as she puts it only nine years together, due to his overseas deployments.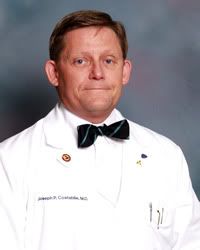 Photo Above:  Dr. Joseph P. Costabile
Listen to Diabetes Living Today® interview with Dr. Joseph P. Costabile
September 29, 2009 ~ Vascular Disease and Diabetes with Dr. Joseph P. Costabile
September 29, 2009 ~ Vascular Disease and Diabetes with Dr. Joseph P. Costabile
[ 56:31 ]
Play Now
|
Play in Popup