Diabetes Living Today®
radio program, provides listeners with education, inspiration and motivation to live healthy and well with diabetes.  Whether you have diabetes or know someone who does
Diabetes Living Today®
radio program offers experience, insight, education and tips to manage life with diabetes.  Through interviews, including "World Class" Research Scientist, physicians and people living with diabetes, living well tips and questions from the listening audience, host Kitty Castellini and Endocrinologist Dr. Joseph J. Fallon, Jr. are there every step of the way to offer guidance, advice and most of all, support.
This week Kitty and Dr. Fallon will interview Joe Eldridge from Team Type 1 and Peter Cowley from Team Type 2. 
"Winners of the eight-person team division of the Race Across America."
Joe Eldridge
Joe Eldridge's passion for cycling, shared with fellow collegiate cyclist Phil Southerland (who also has diabetes), led to the creation of Team Type 1 in 2004.  Two years later, Team Type 1 won the first of two corporate team division titles in the Race Across America (RAAM), and in 2008, their inaugural pro season, Team Type 1 compiled 45 victories and placed two riders in the Olympics.  Now their mission is growing even larger.
"Team Type 1 is a support system," Eldridge said.  "Every day we inspire each other to test more often, to make adjustments in our routine to be that much better. "
Eldridge was diagnosed with Type 1 diabetes at age 10.  But that didn't stop him from becoming a competitive cyclist (after stints in soccer, football, and triathlons).  Not being a terrific swimmer or runner led him to take up track cycling at Auburn University, where he and Southerland – who raced against him in college – laid the groundwork for Team Type 1.
With their sights set on simply finishing RAAM in 2006, they surprised themselves with a victory.  A year later, they won the eight-person corporate team title again – in record time.  Now Eldridge looks forward to achieving the same success in his third professional season.  In 2009, he won more than 20 races on the track, including "Rider of the Year" honors at the Dick Lane Velodrome in East Point, Ga.
"We have a strong group of riders, experienced management, great sponsors, and an important message," he said.  "Everything is in place for us to have another great year, both on and off the bike."
Photo courtesy of Marco Quezada Photography:  Joe Eldridge Team Type 1
Peter Cowley
There could not be a more perfect candidate for the Team Type 2 cycling team than Peter Cowley.
Already an avid cyclist who has seen several editions of the Tour de France in person, the Milwaukee, and Wisconsin resident is also an associate director at the local American Diabetes Association chapter.  He annually organizes the popular Tour de Cure fund-raising ride, of which so many Team Type 1 and Team Type 2 riders participate in around the nation.
He arrived at the team's January training camp in Santa Barbara, California, tipping the scales more than 325 pounds.  But through practice of a balanced diet and daily exercise that involved pedaling as much as he could when he wasn't working, Cowley shed more than 25 pounds over the next six months.
His battle to overcome Type 2 diabetes has not been the only one he has been fighting.  A pair of herniated discs in his back (a condition that leads to irritation of spinal nerves and can cause back and leg pain) made cycling painful at times.  But the 42-year-old says he is ready to go.
"I want to be a spokesman for cycling as a lifestyle choice for people with diabetes," he said.  "I was flattered to be asked to be a part of the team.  I get so much satisfaction speaking that special language to others that have diabetes."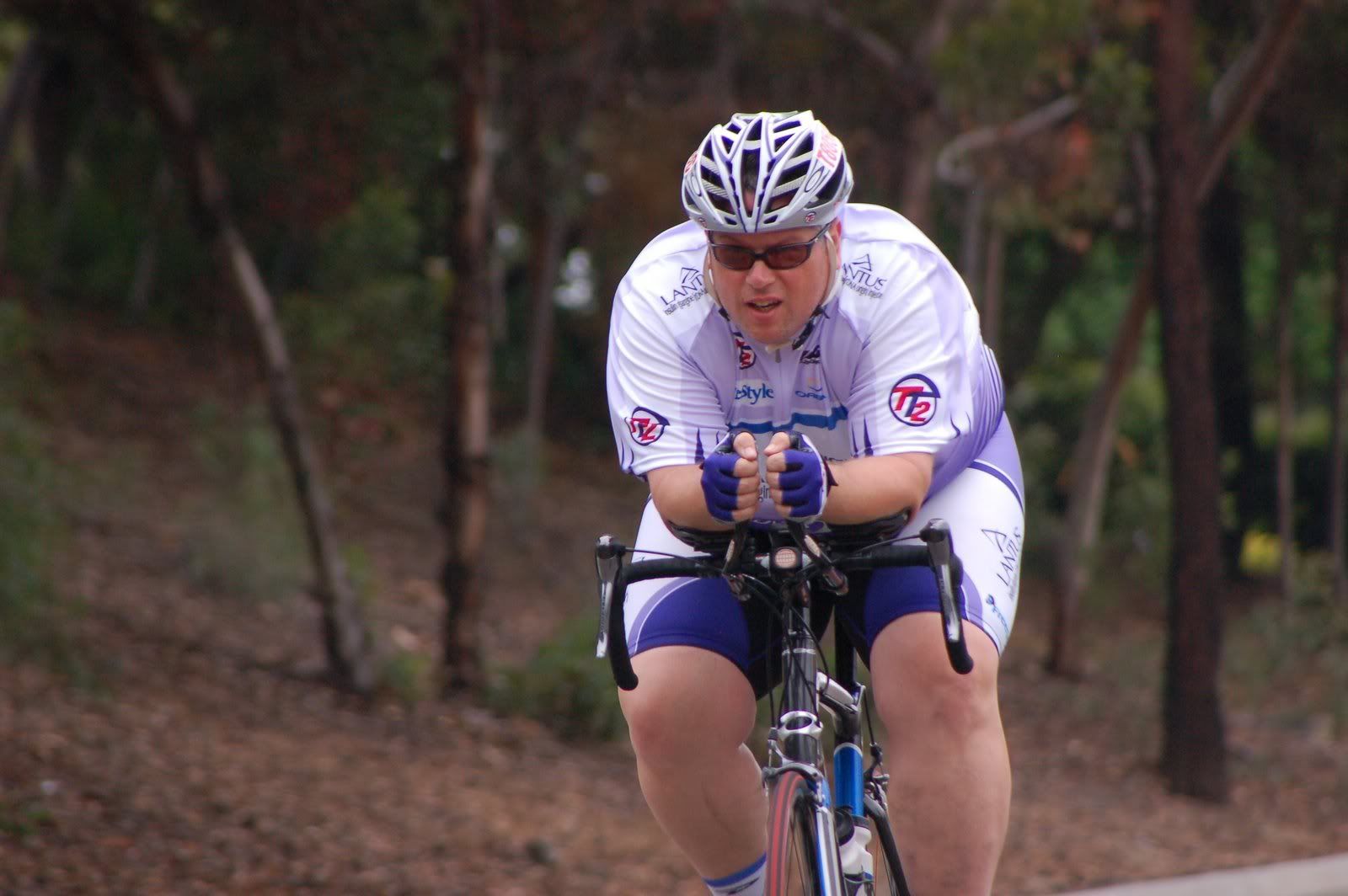 Photo courtesy of Marco Quezada Photography: Peter Cowley Team Type 2
"Team Type1 and Team Type2 are sponsored by Lantus (www.lantus.com) and Apidra (www.apidra.com), manufactured by sanofi-aventis."
Listen to Diabetes Living Today® interview with Joe Eldridge (team type 1) and Peter Cowley (team type 2)
December 8, 2009  ~ "Racing to Cure Diabetes with Team Type 1 and Team Type 2"
December 8, 2009 ~ "Racing to Cure Diabetes with Team Type 1 and Team Type 2"
[ 55:36 ]
Play Now
|
Play in Popup