Diabetes Living Today®
radio program, provides listeners with education, inspiration and motivation to live healthy and well with diabetes. Whether you have diabetes or know someone who does
Diabetes Living Today®
radio program offers experience, insight, education and tips to manage life with diabetes. Through interviews, including "World Class" Research Scientist, physicians and people living with diabetes, living well tips and questions from the listening audience, host Kitty Castellini and Endocrinologist Dr. Joseph J. Fallon, Jr. are there every step of the way to offer guidance, advice, and most of all, support.
This week Kitty and Dr. Fallon will interview Dr. Lawrence Wallach, Endocrinologist.
Dr. Lawrence Wallach
Dr. Wallach is presently a clinical endocrinologist practicing in Delaware County, PA., for 35 years.   He is a native New Yorker and graduated Queens College in 1965, where he also briefly taught Biology while on a graduate assistantship.  Dr. Wallach attended Hahnemann Medical College where he received full academic scholarships in his junior and senior year and was elected Secretary-Treasurer of the AOA Honor Society in his junior year.
Dr. Wallach interned in San Francisco in 1969-70 and then spent the next two years in the United States Public Health Service (Indian Health Branch) in Winslow, AZ., (where he often stood on the corner).  In 1973, he was a medical resident at the University of Vermont, followed by two years at McGill University Hospitals in Montreal, Canada as a fellow in Endocrinology.
Dr. Wallach has been actively involved in teaching young physicians in his career and holds academic appointments at both Drexel and Temple Universities.  He has sat on the boards of several medical societies and is a past president of the Philadelphia Endocrine Society.
Dr. Wallach is married to Paula for "41 years" and they have four sons and five grandsons.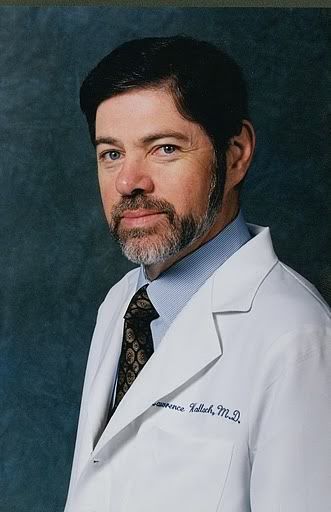 Photo Above:  Dr. Lawrence Wallach
Listen to Diabetes Living Today® interview with Dr Lawrence Wallach
February 16, 2010 ~ Diabetes Management with Dr. Lawrence Wallach, Endocrinologist
February 16, 2010 ~ Diabetes Management with Dr. Lawrence Wallach, Endocrinologist
[ 56:36 ]
Play Now
|
Play in Popup